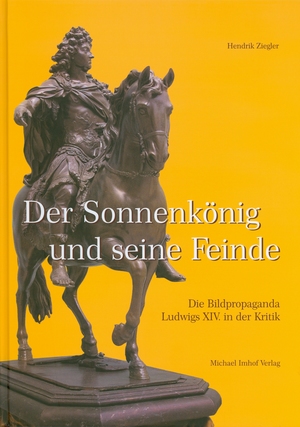 Een zeer sterk aan te raden boek: Der Sonnenkönig und seine Feinde, het Habilitations-proefschrift (een soort tweede doctoraat) van prof. Heindrik Ziegler (Kunstgeschiedenis, Hamburg, sprak begin mei in Oxford op de Louis XIV Outside/In-conferentie).
Ziegler bespreekt er de immense Ludovicaanse iconografische propaganda
in politiek/militaire context
, met inbegrip van de Europese tegenreacties. Voortbouwend op Peter Burke's werk over 'the making of louis XIV' brengt hij een op primaire bronnen gebaseerd, gedetailleerd en grondig geïllustreerd boek (hardcover, A4), waarvan ik geen gelijke ken voor historici. Zijn
prijs
meer dan waard. De glanzende bladzijden wemelen van de afbeeldingen die ik gebruikt heb (Hollandse spotprenter naar Romeyn De Hooghe), of had willen gebruiken (
Almanach Royal
) voor mijn eigen
boek
.